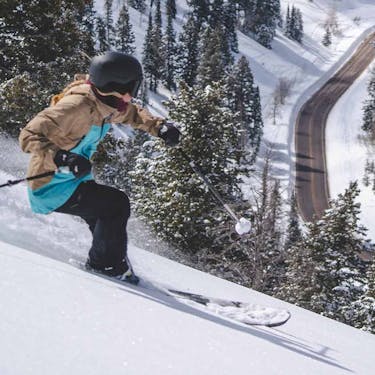 Driving HWY 158
With a consistent grade of 14%, HWY 158 can be tricky to drive when the snow flies and the powder is deep. In order to ensure your safety on your way to an epic powder day, please abide by the new UDOT Snow Traction Policy below.
According to the updated rule, all-wheel drive and 4-wheel drive vehicles must have:
M/S tires (Mud and Snow)
3PMSF tires (All-Season) 
Chains, snow socks, or other traction devices are also accepted.
According to the updated rule, vehicles with 2-wheel drive must have: 
Minimum of 3PMSF (All-Season Tires)
Must have chains, snow socks, or other traction devices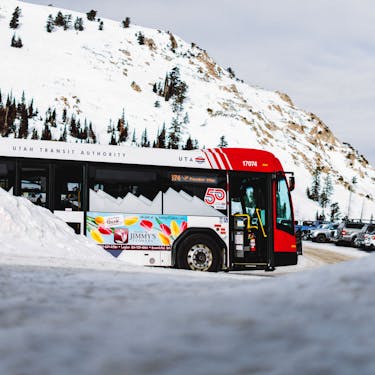 UTA Ski Bus
UTA provides bus transportation from the Ogden & Eden areas to Powder Mountain 7 days a week. Get a detailed schedule & route information below to keep your white knuckle driving to a minimum. 
Ogden Stations: Ogden Transit Center, Courtyard by Marriott, Ben Lomond Hotel, Hilton Hotel, and Dinosaur Park*.
Eden Stations: Eden Park-N-Ride**, Moose Hollow, and Bower Lodge***. 
Pricing
Adults/Youth: $5/one way 
Seniors: $2.50/one way 
Free transit on UTA Ski Bus is included with your Powder Mountain season pass.
* When parking at Dinosaur Park, please make sure to park in the designated UTA parking areas.
** The Eden Park-n-Ride lot is located just north of the Valley Market. If you are coming across the Pineview Dam, turn left at the four-way stop between the Valley Market and Maverick in Eden. The Park-n-Ride lot is approximately 1/8 mile North on your right across the street from Iverson Dental.
*** Bower Lodge offers breakfast 7 days a week from 7am to 11am. Dining is available from 3pm to 10pm from Wednesday to Sunday.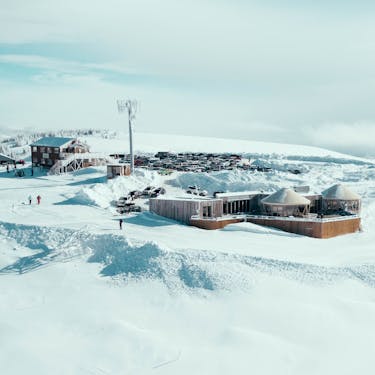 Parking
Powder Mountain offers complimentary parking at three convenient base area locations, Sundown, Timberline, and Hidden Lake.
Ways to get around at Powder Mountain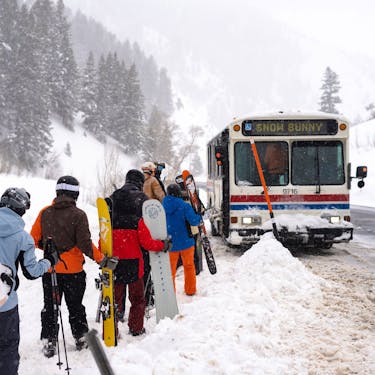 Powder Country & Woody's World Shuttles
1,200 acres of off-piste powder accessed from Sundown, Timberline and Hidden Lake lifts.
Shuttle rides from the HWY 158 Turn Around to Sundown or Timberline are included with lift pass.
Check Lift and Terrain Status for openings. Conditions permitting.
*No private shuttling permitted.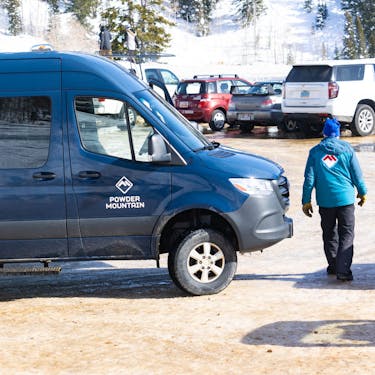 Inter-Mountain Transit
Powder Mountain provides a free on-call shuttle between 9am and 5pm daily. The on-mountain shuttle travels between Sundown Lodge, Timberline Lodge, Hidden Lake Lodge, Village Lift and on-mountain homes and lodging. 
Please call 385-715-5775 to request a ride.