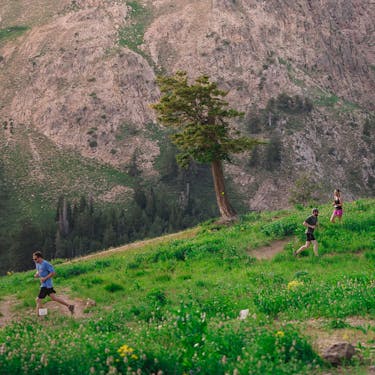 Multi-Use Trails
Hike, run or ride Powder Mountain's multi-use, cross-country trails high above the Eden Valley for FREE!
At Powder Mountain we pride ourselves on providing options for your outdoor experience. Our commitment to creating an all-encompassing place for adventure has only just begun! Beat the heat this summer and enjoy a post activity lunch at Hidden Lake with unforgettable views. Out for a ride and experiencing mechanical malfunction? Stop into the Hidden Lake Bike Shop to get rolling again.
Powder Mountain boasts 30+ miles of multi-use singletrack making it the perfect place to train, explore, and vacation at elevation. With multiple access points throughout the trail network, you'll have options when starting your next ride.
Looking for less pedaling & more downhill riding? Check out Powder Mountains's lift access mountain biking!
Hikers may not access or use the Hidden Lake Chairlift.
Multi-Use Trails Open
Sunrise to Sunset
Emergency Services
Dial 911
Trail Info
General Info
Open Sunrise to Sunset
NO Overnight Parking
NO Camping
NO Fires
Trail Stats
Over 30+ Miles of Singletrack*
13 Trails
Green Trails: 9
Blue Trails: 3
Black Trail: 1
Trail Usage
Approved for Trail Usage
Bicycles
Hikers & Trail Runners
E-Bikes
Not Approved for Trail Usage
No Motorcycles
No Electric Motorcycles
No Motorized Vehicles
Trail Etiquette
Hikers & Runners always have the right of way.
Trails are bi-directional, be aware of oncoming traffic.
Slow down & make noise around blind corners!
Only #1's allowed on the Multi-Use trails.
Save #2's for the Hidden Lake restroom!
Leave no trace, please leave the trails free of trash.
Water, restrooms, & food can be found at the Hidden Lake Lodge during operating hours.
Operating Hours:
Thursday & Friday 12pm - 8pm
Saturday & Sunday 10am - 6pm
The Hidden Lake Hub
Powder Mountain's Bike Park's Hidden Lake Hub is a vibrant addition to summer adventures, providing a range of amenities and activities for mountain biking enthusiasts. With live music on weekends and a beer garden, riders can relax and enjoy the lively atmosphere while indulging in tacos, burgers, and refreshments. The hub also hosts the Friday Night Bike Battles, offering thrilling competitions and weekly prizes beginning July 28th.
The Hidden Lake Hub offers a variety of rental options, including mountain bikes, e-mountain bikes, youth mountain bikes, and women-specific mountain bikes. For those looking to enhance their skills, the hub provides women's mountain bike camps, youth mountain bike camps, and private lessons. Whether you're seeking an adrenaline-filled race, delicious food and drinks, or opportunities for skill development, the hub has something for riders of all ages and experience levels.