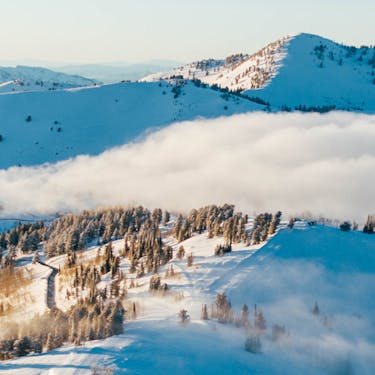 The Powder Mountain story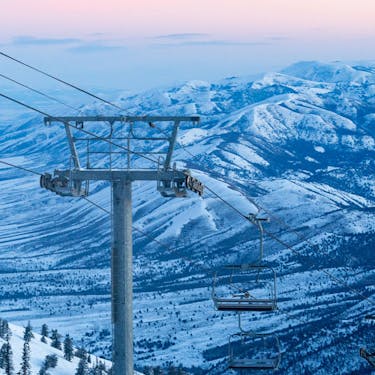 Our Story
Epically picturesque and pristine, Powder Mountain has welcomed outdoor revelers for generations. In the early 20th century, Frederick Cobabe accumulated 8,000 acres of Wasatch Mountain land as range for his sheep herd. His son Alvin eventually purchased the livestock company and land from him, turning it into a ski resort in 1972. The resort quickly became a coveted local's destination. 
Even as the land has changed hands over the years, growing to become the nation's largest multi-season ski resort by acerage, it's always done so while retaining its history, ecosystem, and authentic character. In 2016, ground was broken on a master-planned community involving an interconnected trail system, 500 residences, hotels, restaurants, shops, and event spaces. Everything was thoughtfully and sustainably planned to ensure Powder Mountain remains unspoiled for future generations.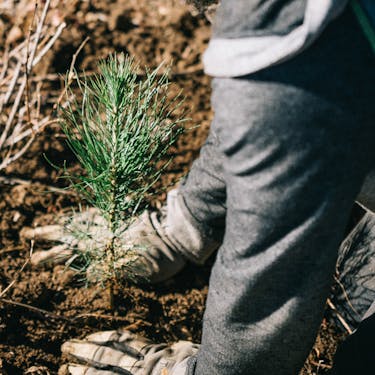 Sustainability
Everything we do is centered around making minimal environmental impact. Our foundational philosophy is to preserve the exquisite ecosystem that makes Powder Mountain one of the most enchanting, inspiring places on the planet.  
Within the community, ecologically driven design and development ensures the ethereal landscape and all it protects will remain safe and pristine for centuries to come. In keeping with this, our master development plan is limited to a small percentage of overall property acreage, retaining 80% of our Weber County lands as open space for residents and visitors to revel in. Everything we've done has been heavily vetted by various wildlife and environmental groups.
1902-1948
Humble Beginnings
Frederick established a summer range in the Grand Targhee area. A prohibition on grazing was enacted when the land was incorporated into the national forest system. Between 1902 and 1948, Fred accumulated land for a summer range around Eden, Utah.

Old timers say that this property was severely overgrazed by previous owners and hardly a blade of grass could be found. The watershed was so poor that Wolf Creek dried up each fall. Fred's soil conservation practices greatly improved the vegetation and Powder Mountain now is known as one of the best watersheds in the Wasatch Mountains.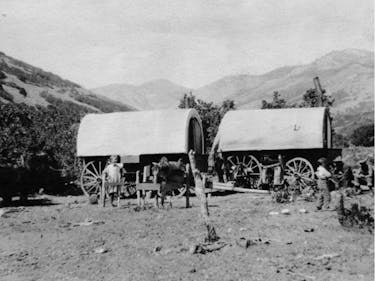 1948
Alvin F. Cobabe
Fred's son, Alvin F. Cobabe bought the livestock company with its 8,000 acres in 1948. Just a few months later, Fred was killed in an automobile accident. In 1956, at 42, Alvin sold the companies to enroll in pre-med classes at Weber College. Although the businesses were sold, he retained the property. He graduated from the University of Utah Medical School at age 45 and returned to northern Utah to establish a medical practice.
1950's
Lightning Ridge
While horseback riding with friends along Lightning Ridge in the 1950's, someone casually mentioned that the terrain would make a great ski resort. The idea rang true with Dr. Cobabe and he began to amass adjacent property adding to the thousands acquired from his father. When the resort opened on February 19, 1972, he owned 14,000 acres.
1971 - 72
Powder Mountain Opens
Only the Sundown lift was open during Powder Mountain's first season. The area was lit for night skiing and a ski school was established. Food was prepared on an outdoor barbecue. The Main Lodge, the Sundown Lodge and the Timberline lift were added to operations for the 72/73 season.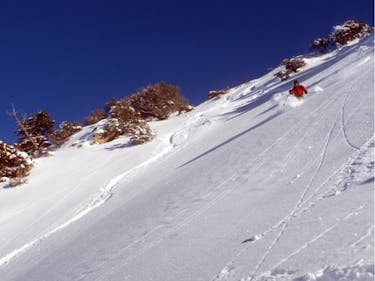 1972 - 73
Main Lodge Opens
Main Lodge opened.
Sundown Lodge opened.
Timberline Lift opened.
1975 - 76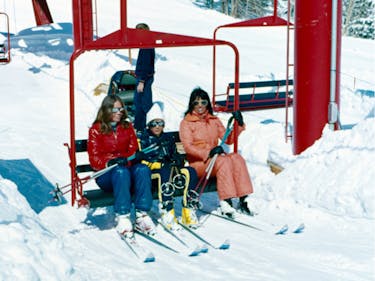 1981
Richard (Woody) Wood
Powder opened a new and exciting chapter in the '80s thanks to the tireless work of local legend, Richard (Woody) Wood. In 1981, Woody fired up shuttle service for employees and those who ventured out into the untracked snow of Powder Country. As customers were frequently requesting rides, the Powder Country shuttle was born and the mountain continues to operate three busses and one van today. Snowboarders were welcomed at Powder Mountain with open arms for the 1984-1985 season and it was the first resort in Utah to permit the new-fangled sport.